With our fast-paced lives and the ever-changing world of social media, we're slowly kissing goodbye to long reads, and demanding information and entertainment in an easy-to-absorb, quick way. Step forward podcasts, which are thriving right now, according to Ofcom. It's been said that over 7.1 million people in the UK listen to podcasts each week, with people subscribing to their favourites.
Seeing as we're staying in more these days, podcasts are offering an alternative and educational way to keep our minds busy and entertained. They're free, don't involve hours of screen time or scrolling and can introduce us to new ways of looking at our lives and habits, too.
In today's post, we're sharing some of the cremes of the crop when it comes to podcasts that uplift us, motivate our minds and provide us with inspiration. Here's our podcasts best picks:
The one about failing: 'How to fail with Elizabeth Day': Free, Elizabeth Day
We feel so pressured to be doing our best everyday, constantly comparing ourselves to those with successful lives. But what about those who fail? What about us feeling a little more normal, connecting with those who have real-life stories of real-life not-so-perfect situations?
This is the very reason that journalist Elizabeth Day chose to set up a podcast that teaches you how to fail. It's a great one if you've been feeling a little behind or that you've struggled lately. It's all so relatable! The guests are real-life people you can aspire to and relate to; and you learn how to look at things properly once you have failed, picking yourself up and being more determined to succeed.
The one that teaches you to cook: 'Cook the perfect…'​: Free, BBC
We could all benefit from a bit of learning when we're staying in more, and this podcast is a great resource for those looking for more inspiration in the kitchen. The podcast is a bite-sized spin-off from BBC Radio 4 Woman's Hour, where the two hosts Jenni Murray and Jane Garvey invite chefs and cooks to come onboard to discuss their favourite at-home dishes that anyone can make. The guests they feature are wide and varied, from Michelin star chefs to vegan experts, cooking along on the podcast and talking through every step.
It's a light-hearted and hobby-led podcast for those wanting to have less screen time, and more creativity in the kitchen!
The one on decluttering your life and home: 'The Minimalists'​: Free, The Minimalists
If you're feeling a little overwhelmed with a busy life, an over-packed to-do list and a home that really needs sorting, The Minimalists podcast is the one you need to clear out your mind - and life.
Learning the art of minimalism gets us seeing past objects and material items, and instead making room for the most important things in life. It's the story of the founders Joshua Fields Millburn and Ryan Nicodemus, which is the first inspiring outcome of this podcast. They have been best friends since high school, where the pair chose to climb the corporate ladder, both earning six-figure salaries, driving fancy cars, lavish lifestyles, etc etc.
Then, they both chose to try a 21-day minimalist challenge which they ended up documenting together. After realising how much this helped them, they launched The Minimalists. This is a down-to-earth approach podcast that isn't stuffy or preachy, but instead highlights how to properly declutter and have a minimalist approach to everything from fashion to finances.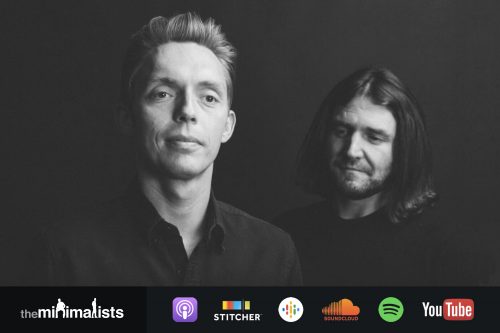 The one that teaches you: 'Duolingo podcast'​: Free, Duolingo
Now this is one for those wanting something worth concentrating on, and not just a light-hearted listen in the background. Duolingo is a language learning podcast, that shares real-life stories in either French or Spanish, told at an easy-to-follow pace, occasionally interspersed with an English commentary so you always know what is going on. They are brilliant stories for those wanting more cultural knowledge, but overall, they make great stories for those wanting to learn a language via an app.
Each podcast sits at around 20-25 minutes long, making the stories ideal for commuters who want to learn snippets of another language along with true cultural stories.
The One which shares Manifestation: 'Expanded with Lacy Phillips'​
We've all heard of people talking about 'manifesting' what they want, right? Well, although most people think that manifestation is probably one of the most hippy, new age subjects out there, it actually has some amazing success stories behind it when it comes to self-improvement and working on affirmation thinking.
The host of the podcast is Lacy Phillips, where much of her approach tackles her beliefs around self-worth – which most of us could improve on, making it a great motivational podcast. She doesn't preach or go all 'zen' on us, instead she talks about real life demons brought on from sadness, like IVF treatment battles, and growing up with an alcoholic mother. She then talks about applying psychotherapy and neuroplasticity, how to apply it to life, and how to manifest what you want in love, life, and relationships.
It sheds light on difficult times and helps the listener to have hope around tackling tough situations. A great listen for those wanting to actively improve their life and mindset.
The one that shares positivity: Happy Place by Fearne Cotton 
With an extensive list of famous guests, the Happy Place podcast by Fearne Cotton goes hand-in-hand with her books and festivals, which share openly about how we should work on that happy life for us.
Fearne chats to famous faces and friends about how they found their very own 'Happy Place' and what obstacles they hit along the way. Everyone faces hurdles, and it's a refreshing podcast which shares how others have overcome the hurdles that life has thrown at them. The best thing is that it's all about real life, with raw stories, non-expert advice muddled with expert advice, and an overall positive vibe that allows the listener to focus on themselves.
The one that informs us: The Goop Podcast
Many will be familiar with this from Netflix, so when we want a break from the series on TV, we can now binge the podcast instead - hooray! The Goop Podcast hosts a great source of information from all those burning questions and worries on our minds. It touches on everyday topics such as sleeping problems, what we inherit from others, how to tackle and fear and phobias and everything inbetween.
The subject range is varied so there will always be an episode that you can relate to. It's informative, soothing, and shares some fascinating stories.
The one that goes deep: Unlocking Us by Brene Brown
Brene Brown has spent over 20 years studying emotions and experiences of life, and if you're a deep thinker and want to work on your own emotions, then this podcast is exceptional. It keeps things casual although touching on deep topics. Brene is joined by a variety of guests, where topics include from grief, love, obsession, finding meaning, over and under functioning and vulnerability, just to name a few.
A great one if you're interested in learning more about how your mind can control how to approach each day, and the ways to make changes in certain areas of your life.
Have we missed off a key one? We're always on the hunt for new podcasts to listen to, so do let us know what your favourites are and which ones should be on our radar!
Back to the top